How do you chill wine to the perfect drinking temp?
Many successful businesses start with just one person who had a vision they desperately wanted to share with the world. So what happens when you actually decide to intertwine that novel idea with work? You start a business, of course!
According to Erica Hosch, Corkcicle's Key Account Manager, it all started with just one simple thought: 'How do you chill wine to the perfect drinking temp, without the mess of an ice bucket?'
That question, nearly 11 years later, has flourished into the innovatory, Corkcicle. With the mission to eliminate the consumption of single use plastic products that are proving to be detrimental to the environment, Corkcicle provides consumers with stylish, customizable, and sustainable drinkware made to enjoy by people of all ages. Caring for our environment and looking cute while doing it? Count us in.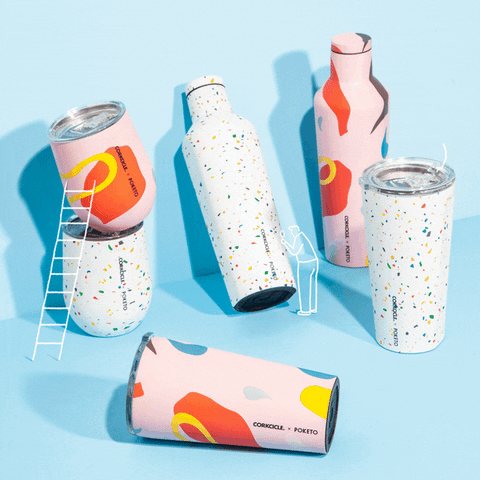 Check out our full interview with Erica and get the inside scoop on Corkcicle's interesting facts, culture and values!
Hi Erica! Just to start, what's your current job title at Corkcicle and how long have you been with the company?
Hello! My name is Erica Hosch and I'm a Key Account Manager at Corkcicle. I've been with the company for 3 years.
What was that "aha" moment that made Corkcicle come alive?
In 2010 we started with a question, "How do you chill wine to the perfect drinking temp, without the mess of an ice bucket?"
To solve it, we tested, obsessed, and perfected our way to our very first product: The original Corkcicle Air in-bottle wine chiller.
We iterated and iterated, eventually creating the final product, which was as sleek as it was effective.
Finally, you could enjoy chilled wine without the mess of an ice bucket.
What's the meaning behind the name, Corkcicle? Is there a story behind the logo and unique designs?
The brand's name, Corkcicle, was inspired by the first original product, the in-bottle wine chiller. The prototype looked like an icicle with a wine cork attached, hence the name, "Corkcicle." 
What sets the Corkcicle experience from other experiences? What would you like to highlight?
As we grow and evolve, our mission is still the same: Make every sip an experience.
How can we add value to everyday moments? These types of challenges excite and motivate us to develop cool products with meaning. Style and sustainability shouldn't be tradeoffs.
In fact, we believe in creating products that enhance personal style while reducing personal impact on the planet. The majority of our products are completely reusable, so customers can feel good about making them part of their everyday.
What impact are you looking to make through Corkcicle?
Corkcicle's drinkware products help to eliminate unnecessary waste with reusable bottles that cut down on single-use plastic consumption.
Additionally, our team spent 24 months reworking our supply chain to convert all of our packaging and shipping materials away from any single use plastic.
With packaging being one of the primary offenders globally for single use plastic, we felt it was important to back up our messaging around single use alternatives in drinkware with a plastic free packaging and shipping experience.
Shop our Boxes Featuring Corkcicle Below
Follow and Discover More About Corkcicle